Blue Beast is the brainchild of Truus de Groot (Plus Instruments) and Miguel Barella. Both are seasoned veterans of the experimental electronic / noise world. They are debuting a brand new Album featuring 12 original songs. Truly a match made in Brazil and realized via cyber waves. Look for their brand new album entitled "Devil May Care", released December 16, 2016, available everywhere there is digital streaming. CD available now and Vinyl available in the near future. Album artwork by renowned Dutch artist Rik van Iersel.



BIO - Blue Beast
In 2014 Truus (Plus Instruments) was invited to play at Virada Cultural, in Sao Paulo, Brazil, with Brazilian musician Paulo Beto (aka anvilFX). James Sclavunos (Nick Cave & the Bad Seeds) joined them on the drums. To round up the line-up: Miguel Barella on guitar. The performance went like a dream. Fast forward to 2016, Miguel suggested a digital music file exchange to see if Truus and he could collaborate. Over a number of months they created a number of songs long distance. Truus worked in her studio in California while Miguel worked in Sao Paulo. The result is this album.


Miguel Barella - Artist Statement
"The electric guitar is endless. There is always a new sound waiting to be explored".

I can´t remember when I started to play but when the punk scene appeared I knew I had to be part of it. Living in Brazil we were always 5 years or more behind what was going on in the US and Europe so, only in 1981, I helped to found the band Agentss and record the first single in 1982. Agentss is known as the first Brazilian post punk group.

In the mid-80s two events changed my approach to music and creativity: playing in the opening event of 18º Art Bienal in Sao Paulo where John Cage was the special guest and in the audience and attending a one week Studio Creativity Seminar conducted by Holger Czuckay.

After that, I extrapolated the pentatonic use of the guitar and started to pay a lot of attention to the role of silence in music. The result of this new path is present in Voluntários da Pátria (the group after Agentss), Alvos Móveis, LCD trio, Rohrer-Barella duo and recently on Blue Beast duo with Truus de Groot in the album Devil may Care.

Miguel Barella – Short Bio
A veteran of the post-punk Brazilian scene. Co-founder of the groups Agentss, Voluntários da Pátria and the duo Alvos Móveis with Giuseppe Lenti. Worked in close collaboration with Julio Barroso (Gang 90) and Akira S (Akira S e as Garotas que erraram). Former Guitar Craft student (seminars conducted by Robert Fripp). Member of the trio LCD with Paulo Beto and Eloi Silvestre. Co-founder of the duo Rohrer/Barella. Performed with several artists including Damo Suzuki, Coffin Joe, Kaffe Matthews, Patricia Ossess, Rob Mazurek, Josh Abrahams, Phil Minton, Hans Koch, Mauricio Takara, Audrey Chen, João Parahyba, Pekka Lehti, Mai-Mai, Arebato, Jim Sclavunos. Played at LEM Festival (Barcelona), 4Hype (SESC), Sonar (São Paulo), RESO and Noise Shanghai (Shanghai). Miguel resides in São Paulo


withTruus de Groot
- Artist Statement
"As nature finds its path, so do I on the unknown trails of my ongoing mission to create organic sounds out of instruments I create or happen upon. It is not what you have, rather how you use it".
My career started at the beginning of the Punk Rock craze in 1976 in The Netherlands. I started out as a vocalist and lyric writer. Experimental Electronic instruments quickly became part of my passion. Eventually it led me to design my own instruments today. My path has been a long and winding road around the world, collaborating with all types of people in a variety of genres and cultures. I am always looking for a new challenge, as I continue to seek exciting ways to express myself creatively through music, words, photography and film. With today's cyberspace there are no more borders and creativity is abundant! There is a freedom to work with anyone in the world on a multi-media level. Many of my recent projects have been developed this way, this is a brand new level of collaboration for me proven to be very fruitful indeed.
Truus de Groot - Short Bio
Truus' musical career spans over the last 4 decades. Born in Eindhoven, The Netherlands, she debuted as a chanteuse just at the beginning of the Punk craze in 1976. Playing in a number of Dutch bands she released her first single in 1979 on the Plurex Label with a highly experimental duet called "BandT Plus Instruments". In 1979, she teamed up with Michel Waisvisz, the inventor of the Crackle Synthesizer. It was the start of a brand new direction for her and one she has remained faithful to, blending it often with traditional styles with unexpected results. In 1981 she moved to New York City to continue her musical adventure that lasted through today in various experimental electronic forms. Today she performs various solo shows with her self-designed synthesizers as well as her very own project Plus Instruments, a collaborative effort with invited guests. She resides in Southern California. For more see
Truus.net
Powered by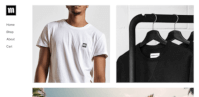 Create your own unique website with customizable templates.